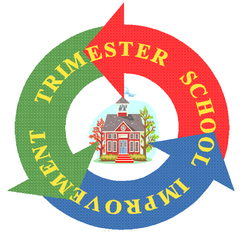 Over the past fifteen years this schedule has become very prominent. The schedule allows for all the benefits of block scheduling without the built-in problems. Requiring no additional staff and saving money while providing more classes for students are strong reasons for leaving a traditional schedule and moving to a trimester format. Balancing students' core classes over three terms allows for less stress on students. Staff members are given more preparation time with fewer students and classes to manage. With all the positives in the time structure, the real benefits are in the guidelines and policies that make the time structure work to its full advantage. Other major benefits are the curriculum alignment and the ability for students to take courses over in the same year. Traditional year long classes run 2 of the 3 terms. Only band, choir and AP classes are run all 3 terms.

Trimester schedules are a vehicle for the school improvement process. The schedule allows for more creativity, and flexibility. It is critical to manipulate the sequence of courses to prepare students better. Trimesters allows current school year remediation and multiple built-in RTI strategies. The polices and practices that surround the schedule help to provide real cultural changes in the school.

I am available as a consultant providing a calendar date can be arranged. My services can be provided through Skype, email, or any other type of technology. My clients will tell you "the call is more than worth your time".
Willits High students are performing much better overall. In comparing statistics from the first semester last year with the first trimester this year, discipline referrals are down from 110 to 48 and failing grades have dropped by 60 percent. So far this year, 173 students made honor roll (3.0+ GPA), 113 achieved perfect attendance, with an average daily attendance rate of 95 percent. The data is overwhelmingly positive.
---